Innermost RD2SQ Pendant Lamp
Brand: Innermost
Product Code: Select Options for Code
SELECT OPTION FOR DELIVERY TIME
Innermost RD2SQ Pendant Lamp
RD2SQ is a fabric shade with a frosted acrylic diffuser. Its shade morphs from a square shape at the bottom, to a circle at the top, surprising and unique. The shade can be combined with a pendant, table or floor fixture for a flexible lighting solution. The optional pendant light fitting is finished in Satin Nickel with a clear cable.
Co-creater of Innermost, Steve Jones studied Industrial Design at Newcastle Polytechnic between 1988 and 1992 before starting a career in consultancy in London. He is passionate about bringing designers into the industry and 'keeping the industry relevant and up to date', something he sees as crucial in the face of social and technological change.
Available Colours & Finishes:
Black, Warm Grey, Dark Grey or Ochre
Materials:
Steel, acrylic, polyester
Dimensions:
40 - Height: 30 cm, diameter: Ø40 cm (optional cord is 1.8 m).
60 - Height: 30 cm, diameter: Ø60 cm (optional cord is 1.8 m).
Light Source:
15W-LED, E27 socket (light source not included).
Design by Steve Jones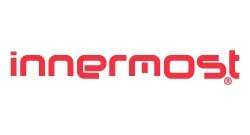 London based innermost pride themselves on their diverse and innovative brand. Designers, curators, industry experts and mavericks of the lighting world, they collaborate with their clients to ensure their designs are at the cutting edge of material and manufacturing processes.
"With our instinctive desire to rebel from the norm, innermost utilise materials and processes in unique ways to defy expectation. Our adept experience of manufacturing allows us to repurpose conventional approaches. Notably, we explore our passion for light and how illumination can be used as a raw material."