&Tradition Marble Light SV
Brand: &Tradition
Product Code: Select option for code
SELECT OPTION FOR DELIVERY TIME
&Tradition Marble Light Pendants
The elegance of the marble Light design is due to Studio Vit ́s attention to detail and dedication to perfecting and reducing forms. Made from Italian Bianco carrara marble and mouth-blown borosilicate glass, the high-quality materials and the pure geometric shapes used for marble Light push the light towards the realm of an art object. Yet you find playfulness in the way they play on the archetypal light bulb form fulfilling &tradition's second criteria – innovation. The seven-piece collection designed by Studio Vit includes a variety of pendants of different proportions and marble weights that allow the lamps to be suspended. The marble Light collection includes one table lamp, four pendants and one marble floor weight with 10m cord.
Dimensions:
SV2: Marble: Ø: 8cm/3.1in, H: 10cm/3.9in. Glass: Ø: 13cm/5.1in.
SV5: Marble: Ø: 5cm/1.9in, H: 16cm/6.3in. Glass: Ø: 16cm/6.3in.
SV6: Marble: Ø: 7cm/2.7in, H: 5cm/1.9in. Glass: Ø: 16cm/6.3in.

Materials and finish: White bianco carrara marble and clear mouth blown borosilicate glass with 4 meter white fabric cord.
Bulb: G9 Max 25 Watt. This luminaire is compatible with bulbs of the energy classes: B - E. This luminaire is sold with a bulb of the energy class: D.
Design By: Studio Vit - 2014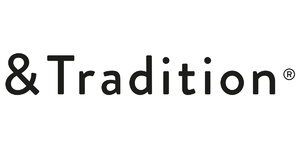 &tradition is a Danish design company with the founding principle being tradition tied to innovation. Their unique library of lighting includes designs dating back to the 1930s and includes designs by many internationally renowned designers, old masters and new inspirational designers aiming to define what will become future classics. "All of our designers have a unique vision and their designs have the capacity to reach people in their everyday lives."
&Tradition works with the design portfolio of established designers such as Verner Panton and Arne Jacobsen as well as exciting new designers such as Sofie Refer. Such designs include Arne Jacobsen's Bellevue Lamp and Sofie Refer's Bulb SR1 and Bulb SR2 pendant lamps.