Lightyears Radon Wall Lamp
Brand: Lightyears
Product Code: Select Options for Codes
SELECT OPTION FOR DELIVERY TIME
Lightyears Radon Wall Lamp
Widely considered a design classic, the Radon Lamp is included in the Danish Museum of Decorative Arts collection. Its geometric shape is a key element of the design, with its smooth semi-spherical shade. The shade is multi-directional and includes an asymmetrical reflector, which ensures an even distribution of light. It is available in 3 colours; black, white or yellow.
Originally trained as a cabinet maker, Hans Sandgren Jakobsen went on to study industrial design at The Danish Design School in Copenhagen. His designs stand out from the crowd by focusing on the aesthetics of the piece as well as the light they produce. Radon is a prime example of his unique combination of function and form to create a minimalist lamp.
Available colours and finishes:
White or Black
Materials:
Aluminium, Steel
Dimensions:
Lamp height: 19 cm. Shade diameter: Ø21 cm.
Bulb req:
Max 60W-Halogen, E14 Socket (lightbulb is not included)
Designed by Hans Sandgren Jacobsen - 2010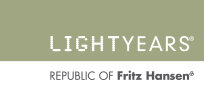 Lightyears develop and manufacture high-quality lamps for the professional and private consumers. In close cooperation with some of the world's best designers and architects, they have designed a number of modern lamps combining tradition and innovation.
"At Lightyears, we are proud of our Scandinavian legacy. We see light, functionality and aesthetics as a natural trinity that forms the nucleus of our design. Our dedication to the "form follows function" concept is a guiding light in our endeavours to create lamps that offer beautiful, yet functional illumination to the delight and benefit of the user. All of our lamps are manufactured in robust materials like copper, steel, glass and acrylic, which together with their timeless design guarantee a long and trouble-free service life".
Lightyears were established in 2005 and since June 2015 has been part of Fritz Hansen A/S. Their lamps are available in more than 60 countries and have formed the centrepiece of spectacular interior designs in restaurants, hotels, corporate headquarters, shops and private homes all over the world.