Lightyears AQ01 Wall Lamp
Brand: Lightyears
Product Code: Select Options for Codes
SELECT OPTION FOR DELIVERY TIME
Lightyears AQ01 Wall Lamp
Released by Lightyears in 2017 the AQ01 Lamp is a contemporary wall lamp. Unlike similar lamps, the AQ01 has been designed with a more aesthetically pleasing curve. Its refined detailing includes a concealed cable which runs through the lamps body and a tactile matt lacquer. It provides direct light through a thick diffuser which prevents glare.
Following her studies at the Aarhus School of Architecture, Anne Qvist worked as a designer and design manager at notable architects before opening Anne Qvist Design Office. Her designs are focused on function with her pieces having a modest elegance. Placing her designs into the context in which they will use, she believes "Modest design does not shout its good style at you, but speaks quietly and precisely. Modest design possesses meaning, and is meaningful to many – not just a few."
Available colours and finishes:
White, Black or Blue
Materials:
Aluminium
Dimensions:
Lamp height: 44 cm, lamp arm length: 45 cm. Shade diameter: Ø8 cm. Cord length: 2m.
Bulb req:
6 LED 3000K 483lm CRI90 - 6W (LED included)
Designed by Anne Qvist - 2017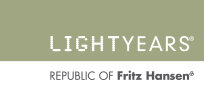 Lightyears develop and manufacture high-quality lamps for the professional and private consumers. In close cooperation with some of the world's best designers and architects, they have designed a number of modern lamps combining tradition and innovation.
"At Lightyears, we are proud of our Scandinavian legacy. We see light, functionality and aesthetics as a natural trinity that forms the nucleus of our design. Our dedication to the "form follows function" concept is a guiding light in our endeavours to create lamps that offer beautiful, yet functional illumination to the delight and benefit of the user. All of our lamps are manufactured in robust materials like copper, steel, glass and acrylic, which together with their timeless design guarantee a long and trouble-free service life".
Lightyears were established in 2005 and since June 2015 has been part of Fritz Hansen A/S. Their lamps are available in more than 60 countries and have formed the centrepiece of spectacular interior designs in restaurants, hotels, corporate headquarters, shops and private homes all over the world.