Lightyears Avion Pendant Lamp
Brand: Lightyears
Product Code: Select Options for Codes
SELECT OPTION FOR DELIVERY TIME
Lightyears Avion Pendant Lamp
The Avion is inspired by a childhood fascination with aircraft, particularly the Zeppelin airships. The large pendant hovers in the air playfully and can be angled as desired either singularly, grouped together or in a line to guide the eye through a passage way. The white polyethylene pendant casts a soft diffuse light to create a natural atmosphere. Available in either Halogen or LED, the LED option also includes a DALI dimmable version. A canopy is also available from which to hang the lamp.
Iskos-Berlin Design is a partnership of Boris Berlin and Aleksej Iskos founded in 2010. Boris Berlin is also the co-founder and partner of KOMPLOT Design and has received many accolades for his work, which can be seen in design museums around the world. Aleksej Iskos worked as an assistant at KOMPLOT Design for 11 years before forming a new partnership with Berlin.They are renowned for their experimental approach to design, working with new technologies and materials to give their own twist.
Available colours and finishes:
White
Materials:
Polyethylen
Dimensions:
Shade height: 34.2 cm, shade length: 85 cm. Cord length: 6m.
Bulb req:
Avion E27 - 2 x Max 100W-Halogen, E27 socket (light bulb not included).
Avion 2x42W - 2x42W GX24q-4 (light bulb not included).
Avion Dali - 2x42WGX24q-4 (light bulb not included).
Designed by Iskos-Berlin Design - 2012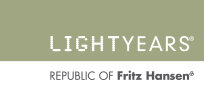 Lightyears develop and manufacture high-quality lamps for the professional and private consumers. In close cooperation with some of the world's best designers and architects, they have designed a number of modern lamps combining tradition and innovation.
"At Lightyears, we are proud of our Scandinavian legacy. We see light, functionality and aesthetics as a natural trinity that forms the nucleus of our design. Our dedication to the "form follows function" concept is a guiding light in our endeavours to create lamps that offer beautiful, yet functional illumination to the delight and benefit of the user. All of our lamps are manufactured in robust materials like copper, steel, glass and acrylic, which together with their timeless design guarantee a long and trouble-free service life".
Lightyears were established in 2005 and since June 2015 has been part of Fritz Hansen A/S. Their lamps are available in more than 60 countries and have formed the centrepiece of spectacular interior designs in restaurants, hotels, corporate headquarters, shops and private homes all over the world.