Foscarini Gregg Suspension Lamp
Brand: Foscarini
Product Code: Select Options for Code
SELECT OPTION FOR DELIVERY TIME


Foscarini Gregg Suspension Lamp
The Gregg hanging lamp, in hand-blown glass is available in three different sizes. An organic, elegant and familiar shape that does not use pure geometry as its point of reference.
Material: blown acid-etched glass
Colours & Finishes: White, Gold or Graphite (Gold & Graphite finishes only available in Piccola, Midi, Media Halogen and Grande Halogen)
Dimensions:
Small : 11cm x 11cm x 13cm
Midi : 21cm x 17cm x 16cm
Medium : 31cm x 26cm x 26cm
Large : 47cm x 40cm x 40cm

Cable 1.9m
Bulb req:
LED Retrofit Piccola: Max 33W G9 Halogen Energy Saver (light source not included)
LED Retrofit Media & Grande: Max 21W-LED, E27 socket (light source included)
Integrated LED Midi: 8.5W-LED 830lm 2700K (light source included)
Integrated LED Media & Grande: 24W-LED 2581lm 2700K (light source included)
Designed by Ludovica & Roberto Palomba - 2007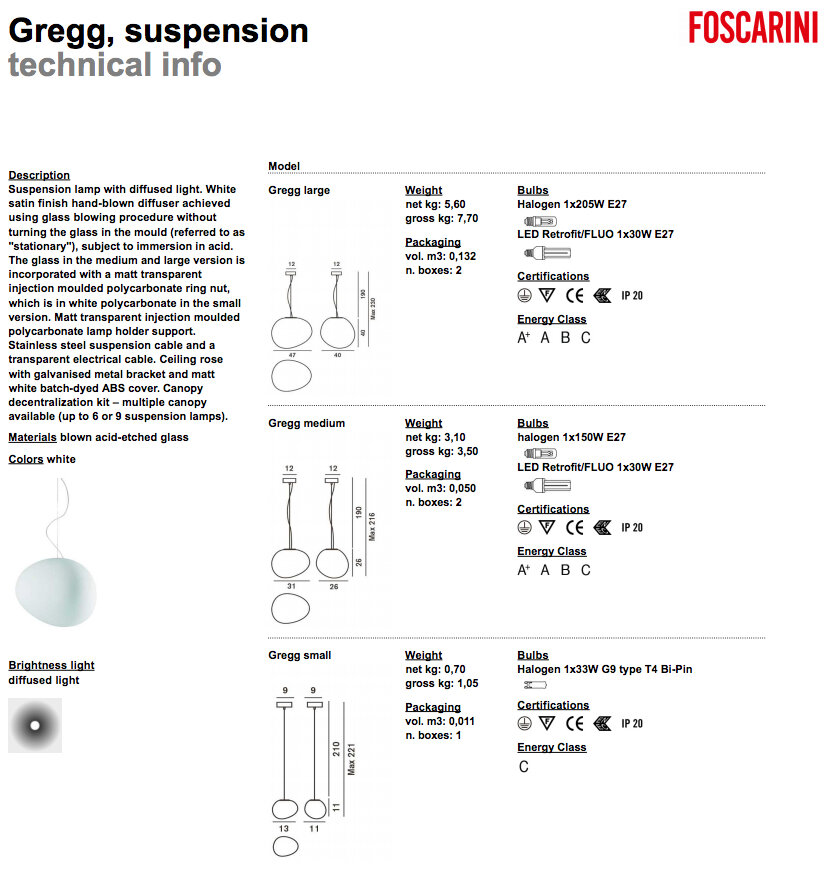 This is Foscarini. A technological and creative workshop that is free, passionate, unconventional and right at the heart of the industry in which it thrives. Foscarini designs, explore an entire world of materials and solutions. Free of any mental barriers or technical restraints through flexible, efficient and high-quality production.
Foscarini: a special personality in the world of lighting.