Foscarini Twiggy Floor Lamp
£1,184.00

Ex Vat: £986.67
Brand: Foscarini
Product Code: Select Options for Code
SELECT OPTION FOR DELIVERY TIME
Foscarini Twiggy Floor Lamp
Twiggy is a simple idea, which has become a Foscarini and design icon. The diffuser casts direct light in the area underneath the lamp. Due to the transparency of the upper protection disk, it diffuses a cosy ambient light.
The Twiggy floor lamp is available in four colours; black, white, grey and red. The height can be adjusted using small weights supplied that fit onto the lamp head.
Additional stems can be purchased adding an additional 40cm to the overall height.
Dimensions:
Lamp shade: 46cm diameter
Additional stem section: 40cm height
Without additional stem section (standard): Height 195-215cm x Width 170cm
With 1 additional stem section: Height 230-250cm x Width 185cm
With 2 additional stem sections: Height 260-280cm x Width 200cm

Bulb req:
Halo E27 (Standard) - 3 x 77W E27 Halogen Energy Saver - Dimmable (bulb not included)

Designed by Marc Sadler - 2006.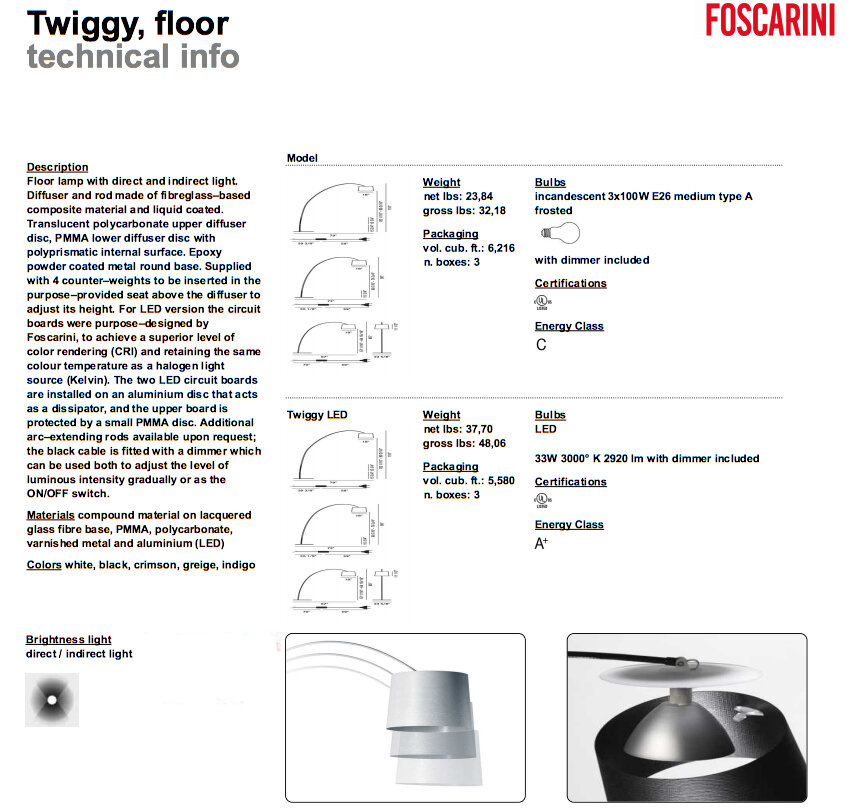 This is Foscarini. A technological and creative workshop that is free, passionate, unconventional and right at the heart of the industry in which it thrives. Foscarini designs, explore an entire world of materials and solutions. Free of any mental barriers or technical restraints through flexible, efficient and high quality production.
Foscarini: a special personality in the world of lighting.